---
Hi friends, this tutorial will help you with all the tested and untested Samsung Galaxy F04 SM-E045F secret codes & hidden menu codes.
A brief intro to Galaxy F04 specs
The Samsung Galaxy F04 released on 2023, January 12th is a 6.5 inches PLS LCD touchscreen Smartphone with 81.8% screen to body ratio and 270 ppi density. It has 64GB 4GB RAM internal storage and RAM option.
The Galaxy F04 comes factory installed with the old Android 12 firmware and One UI. It has a dual camera assembly with 13 MP main sensor. The main plus point about this phone is that it doesn't have that problematic Snapdragon chipset, instead it has a Mediatek MT6765 Helio P35.
The Samsung Galaxy F04 comes in two colour options, Jade Purple and Opal Green.
A Preface to the article

When there is an issue with your Galaxy F04 what will you do first? Will you try home made troubleshooting steps or just give it to an authorized service center?
Most of the people will like to go with the later. Because nobody wants to give away their favorite Smartphone to the service center straightaway. If their home remedies are not working only they will be sending it away for expert service.
But do you know how to perform basic tests on your Galaxy F04 which may involve Secret Codes with which you can diagnose the real reason behind the issue.
First let me first brief you for those who are totally unaware about the android secret menu system and codes before going to the actual secret code list.
What are secret codes?
Secret codes are hidden codes on your Galaxy F04 which will help you to configure, to get information or to test an inbuilt hardware functionality which is not possible normally. It's always risky to play with secret codes without knowing what it will do to your phone, so be cautious.
Please note that these codes may not work on carrier locked phones unless their bootloader is unlocked. Also some codes may not work after some software/security update. So don't panic when some codes are not working.

How to execute codes on Galaxy F04 ?
To execute the secret codes jut type in the code as shown in the screenshot below and it will run automatically if it's compatible with your phone. Some codes will not work even if it's for your model, there can be many reasons like a locked bootloader, carrier firmware lock etc. Even some firmware update/security updates results in blocking of some codes so don't panic if any of the codes are not working.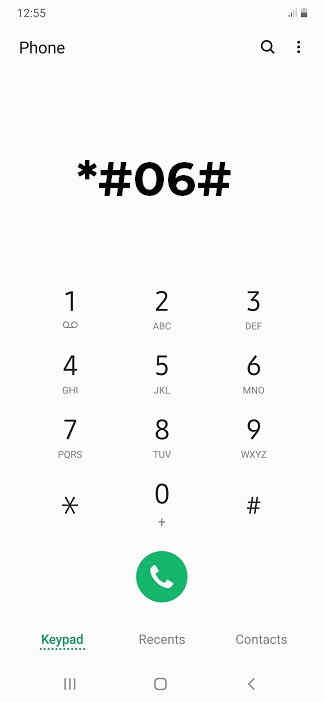 So as you can see in the above screenshot just type the code to your normal dialing keypad, and hurray! the code will just execute.
All Galaxy F04 Secret Codes (Tested)

The below codes are personally tested on your Samsung Galaxy F04 and found working on the factory installed unlocked models. However some codes may not work due to bootloader lock or a security patch.
IMEI number : *#06#
GSM status information : *#0011#
General Test Mode : *#0*#
Dump mode : *#9900#
Check software version: *#1111#
Hardware Version : *#2222#
USB Settings: *#0808#
Audio Loopback Control : *#0283#
Diagnostic configuration : *#9090#
Software and hardware info : *#12580*369#
Audio Loopback Control : *#0283#
TSP / TSK firmware update : *#2663#
Camera Firmware Menu: *#34971539#
Insert Network Lock Keycode : #7465625*638*#
Update Camera Firmware: *#34971539#
Battery status ADC, RSSI reading : *#0228#
All Galaxy F04 Secret Codes (Untested)
The below codes are not tested on Galaxy F04 . Some codes may work and some may not so please don't panic if some codes are not working.
Build info: *#*#44336#*#*
To Do A Packet Loop Test: *#*#0283#*#*
Audio testing: *#*#0673#*#* OR *#*#0289#*#*
Touchscreen test: *#*#2664#*#*
PDA Info: *#*#4986*2650468#*#*
Backlight and vibration testing: *#*#0842#*#*
To get touchscreen version: *#*#2663#*#*
Proximity sensor test: *#*#0588#*#*
Phone & Battery Usage info: *#*#4636#*#*
To get RAM info: *#*#3264#*#*
Test LCD Display: *#*#0*#*#*
WiFi Test: *#*#232339#*#* OR *#*#526#*#*
Factory Data Reset: *#*#7780#*#*
For complete data wipe: *2767*3855#
To change Power button behavior: *#*#7594#*#*
To get Bluetooth device address: *#*#232337#*#
Bluetooth Test: *#*#232331#*#*
Enable voice dialing logging mode: *#*#8351#*#*
Media files backup: *#*#273283*255*663282*#*#*
To test service activity: *#*#197328640#*#*
Field Test: *#*#7262626#*#*
Disable voice dialing logging mode: *#*#8350#*#*
GPS Test: *#*#1472365#*#*  &  *#*#1575#*#*
To get camera info: *#*#34971539#*#*
To get Wifi Mac Address: *#*#232338#*#*
Video Tutorial
If still confused how to execute the codes, please watch the video tutorial by following this link.
If "All Samsung Galaxy F04 Secret Codes (Hidden Menu)" tutorial really helped you, please give a like/share on social networking websites by using the below given buttons.