Did you recently noticed your Galaxy Smartphone battery draining too fast, even overnight? If did you may be worried and searching for a solution from the very first day, don't worry we have sort it out everything. For this issue first we need to investigate what may be the exact reason behind it. If it's a hardware issue or a damaged battery then there is no other solution except replacing it. But if it's a software issue we can sort it out by a small investigation, along with solutions and tricks.
Most of you out there might be noticing this all of a sudden, to say maybe after an Android firmware update. So lets investigate the reason behind this and find some solutions.
Causes and solutions for fast battery draining issue on Galaxy Smartphone
Did you recently installed any new app before the battery draining issue has been noticed?
If the battery draining is caused by a software issue then the main culprit behind it can be a bad app. So check whether you have installed any new apps, if did please uninstall it and restart your phone and check whether the battery life has been bettered. To uninstall an app go to Settings->Apps for new phones and Settings->Application Manager for older phones.
So if the issue is still there then some other app can be the issue, but it is not advisable to uninstall each and every app on your Galaxy Smartphone to confirm it. So we have another method, the safe mode. Safe mode is some what similar like the Windows Safe Mode. In safe mode all the apps will be disabled except the factory installed ones so you will be able to confirm that the battery drain is due to a bad app.
To enter your Samsung Galaxy Smartphone into Safe Mode please switch it off first. Once the phone is switched off completely wait for a few seconds and press "Power" button to switch it back on. Now press and hold the "Vol Down" button once you see your phone model number on the screen. Once your phone is booted up it will automatically go to the "Safe Mode". Now check whether the battery issue is resolved, if resolved then try to find the bad app which is eating up the battery by trial and error method, if not please proceed further.
Are you among the ones who keeps the data connection ON all times?
If you are among the ones who keeps the data and wifi connection enabled all times then please disable it when not required, because data connection is the main culprit behind the battery drain in modern Smartphones, whether it's android or iphone.
1. Turn Off automatic Sync
In your Samsung Galaxy Android Smartphone there will be lot apps which automatically syncs it's data all the time like for eg: Gmail app. If it's turned ON all the time it can drain your Galaxy Smartphone battery very fast. So Please disable the auto sync option for all that kind of apps and do manual sync when you need it.
To disable sync there are lot of options
Methods 1
Settings->Power Saving Mode-> Uncheck "Block backgroud data"
Method 2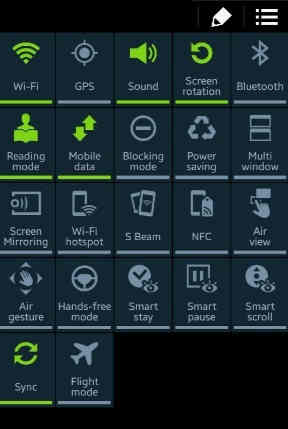 From the notification panel as shown in the above screen shot.
Method 3
Settings->Data usage> expand the menu and  uncheck the option Auto sync data.
2. Turn off Location Services
Location services can also drain your battery. Turn off the location services when you doesn't require it. You can disable it from the notification panel or from Settings menu.
3. Turn Off Always On Display
For newer Galaxy Smarphones with always on display you can try this. It can be done from the Settings menu->Display
4. A faulty battery
A faulty can be also a rare reason behind the fast battery draining of your Galaxy Smartphone. You may try the below tutorial to calibrate your battery and check whether the issue is resolved.
If it's still not resolved please change the phone battery.
5. Screen Brightness
Screen brightness can also be sometimes a villain behind fast battery drain of your Samsung Galaxy Smartphone. Make sure that you have set the screen brightness to the lowest possible value or in "Auto" mode.
6. Push Notifications
Too many push notifications prevent your phone from being idle and will result in battery draining.
That's it friends, these are the methods with which you can resolve the fast battery drain issue on your Samsung Galaxy Smartphone, if the issue is still not resolved try to contact a nearby service center and get the battery replaced asap.
Normal queries for Galaxy Smartphone Fast Battery Draining Issue and Solution
My Galaxy Smartphone battery suddenly drops to zero
Galaxy Smartphone backup very low
My Galaxy Smartphone suddenly loses charge and shutoff
If you have faced any issues while trying to resolve the battery draining issue on your Galaxy Smartphone, please feel free to post it in the comment section below, don't worry I will help you as fast as I can.
If "Samsung Galaxy Smartphone Fast Battery Draining Issue: Solution" tutorial really helped you, please give a like/share on social networking websites by using the below given buttons.