In this tutorial we will be helping you to install the stock ROM (Android Oreo 8.0)on your Samsung Galaxy S9. The exciting part about this tutorial is that we are covering all the Galaxy S9 variants here.
On a brief account Galaxy S9 is the latest Android flagship from the Korean Smartphone giant with a massive 5.8 inches Super AMOLED capacitive touchscreen display having Corning Gorilla Glass 5 protection on top of it, 12MP rear camera, Octa core processor and what not.
Please note that this method is compatible only on the Samsung Galaxy S9 SM-G960N, Samsung Galaxy S9 SM-G960U1, Samsung Galaxy S9 SM-G9600, Samsung Galaxy S9 SM-G960U and Samsung Galaxy S9 SM-G960W.
However if you want to install the stock ROM on your Galaxy S9 SM-G960F model then please follow the below tutorial.
On a further note this tutorial is for those who are experiencing any kind of the below mentioned issues.
Whoever who wants to go back to the Stock Android Oreo 8.0 firmware.
Someone who is experiencing some issues after updating/rooting etc.
Someone who has some corrupted OS files.
For someone who is going through the infamous android bootloop on your Galaxy S9.
Before proceeding any further lets have an idea on;
What is a stock ROM/firmware?
This is strictly for educational purpose only. If somebody is telling you to install the stock ROM while you are facing an issue like the one mentioned above with your phone, you may be confused,
What is a Stock ROM?
Stock ROM is simply the firmware which was pre-installed on your Galaxy S9 (or any phone) when it came from the factory.
Now you might be thinking, I am not a technical person, so it will be difficult for me to install the stock ROM on my device, don't worry it is as simple as picking an apple from an apple tree.
Note: When proceeding with the further steps please make a complete backup of your device memory including contacts, multimedia file etc if you are able to do so.
Steps to install the stock ROM/firmware on Samsung Galaxy S9 (All models)
1. First lets start with the required files to install the firmware. In order to flash your S9 with the stock Oreo 8.0 firmware you need to download two files from the below given links.
The firmware files are listed corresponding to it's model number. Please find the correct model number and region and download it. The first one is firmware file and the second one is the tool used to flash it on to the phone, called Odin application.
When you click any of the the below links you will be directed to another page where you need to select the file according to the country/region. Please note that for Galaxy S9, the stock firmware version is Android Oreo 8.0.
2. When the downloading is finished you need to enable the "USB debugging mode" on your Galaxy S9. To enable it please go to settings menu gave a check mark for "USB debugging" from the "Developer options". If you are not much familiar with the process a detailed tutorial will be more helpful which can be found below.
3. After enabling the USB debugging on your phone you need to switch it off and enter it into the download mode. For that when in power down status please press and hold "Power" + "Vol Down" + "Bixby" buttons at the same time to enter into download mode. You may also check the below tutorial for more detailed steps.
4. Now please open the Odin application with administrative privileges. Once done please connect your S9 using the USB data cable to your computer. If the connection was successful you will get an "Added" message from the Odin application. If you didn't get the "Added" message please reinstall the Samsung USB drivers and try again. The USB drivers can be downloaded from the official Samsung website for free or try searching the Google.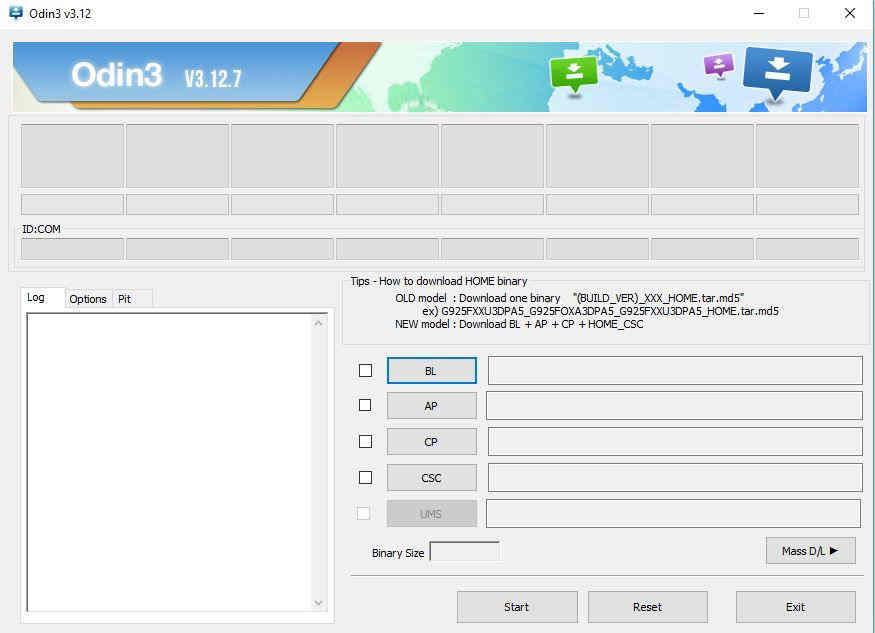 5. Now it looks like it's all set so lets begin the actual flashing process. For that please click the "PDA/AP" button in the Odin software and select the "tar.md5" which you have downloaded and extracted before. When done please click the "Start" button to begin the flashing process. Now wait till the procedure is finished and until the phone is rebooted.
Once the flashing process is completed you will get a "Pass" message from the Odin application. Now to confirm please go to the settings menu and check the installed software version.
Sometimes bad things can happen, so if you are thrown into an endless android bootloop after this procedure please resolve it by following the below given tutorial. Don't worry because boot loop is a glitch in android firmware which can be resolved easily.
Normal queries for this tutorial
How to install stock ROM/firmware (Oreo 8.0) on Samsung Galaxy S9 SM-G960N?
How to install stock ROM/firmware (Oreo 8.0) on Samsung Galaxy S9 SM-G960U1?
How to install stock ROM/firmware (Oreo 8.0) on Samsung Galaxy S9 SM-G9600?
How to install stock ROM/firmware (Oreo 8.0) on Samsung Galaxy S9 SM-G960U?
How to install stock ROM/firmware (Oreo 8.0) on Samsung Galaxy S9 SM-G960W?
If you have faced any issues while installing the Stock ROM on Galaxy S9, please feel free to post it in the comment section below, don't worry I will help you as fast as I can.
If "How To Install Stock ROM (Oreo 8.0) On Galaxy S9? (All Regions)" tutorial really helped you, please give a like/share on social networking websites by using the below given buttons.