The FRP lock by Google starting from Android Marshmallow is always been a headache for those who have weak memory, like me. I personally have gone through some hard times only because of this security feature which became a nightmare sometimes.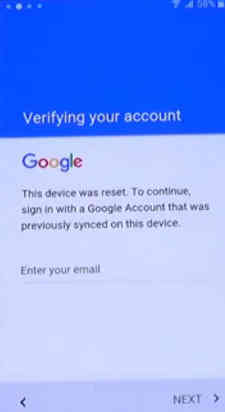 If you see the above window after a factory data reset, then you are also having the FRP lock on your Galaxy phone.
What is the solution?
Actually update after update Android is getting too smart to tame, so the once working method may not work after a recent update, so we need to get updated always with new methods.
So what we can do to remove the FRP lock if your phone is running with latest Android security update and One UI 2+. Never mind, because we have got a fail safe solution which will help you to remove the FRP hustle from your Galaxy Android Smartphone.
However before proceeding please read the disclaimer below;
We intend this tutorial for those who accidentally got locked out of their phone because of FRP lock and not for any illegal purpose.

Please note that FRP lock disabling using this method may void your warranty, so please proceed with caution. Also SamsungSFour.Com will not be liable for any damage caused as a result of this tutorial.
This tutorial gives credit to "Albviral" Youtube channel for the wonderful method.
Steps To Remove FRP Lock On Galaxy Smartphone On Android 10 and One UI 2.0+
1. When you are stuck in a page asking for the Google credentials go back to the first page which tells "Let's go!".
2. Now press and hold the "Vol Down" + "Power" button that will eventually take a screenshot. You will also get a popup which asks for "Samsung capture" necessary permissions. Now you need to tap "Deny".
3. Once done repeat the step 2 but tap on the option "Deny & don't ask again" this time.
4. Now repeat the step 2 one more time and it will give you another popup saying "Unable to open Samsung capture, tap settings …..etc". Now tap on "Settings" on the bottom right corner of the popup.
5. Once you tap "Settings" it will open the "Samsung capture" settings page. Now scroll and tap on "Permissions".
6. In the next page use the search icon on the top right corner to open "Chrome" browser. Just search with the keyword "Chrome" and tap on the result to open Chrome browser.
7. Now download the .apk file from this link. Tap on "Ok" when you get the warning message.
8. Once downloaded please click "Open" and allow installation for unknown apps by tapping on the "Settings" and tapping on "Allow from this source".
9. Now tap on back arrow and install the .apk file. Once installed tap "Done". Do not open it.
10. Once done download the FRP Tool by "Albviral" from this link. When downloaded please install it as mentioned in step 8. Once installed open the app and click "Continue" and when opened click "Ok". Now tap on "Bypass FRP" and tap "Settings" on the bottom left corner of the popup window.
11. Now make sure that there are no device admins allowed by going to Settings->Biometrics and security->Other security settings->Device admin apps.
12. Once done open "Apps" from "Settings" main menu and disable "Google Play Services" and need to force stop it once done.
13. Now goback to "Settings" main menu and tap on "Accounts and backup->Accounts->Google". Now tap on "Continue" in the next page on the bottom right corner and tap "Ok" when you get the popup.
14. In the next page you will be asked to enter your google account details. This time add any existing Gmail account there.
15. Now enable the "Google Play services" by going back to the settings menu.
16. Once done press back arrow until you see the first page were it says "Let's go!". Now move forward as usual and in the 3rd page you will see that the Google account is already added with the one you have done in step 14.
17. Now when all done. Do a factory data reset again and that's it.
Hope this helped!
Compatible models

Samsung Galaxy S20 Ultra, S20+ 5G, S10, S10 5G, S10+, S10e, Note 10, Note 10+, Note 10 lite, Fold 2020, M31, Z Flip, Xcover Pro, X, A70e, S20, S20+, A41, A31, A51, A71, S9, S9+, Note 9, A80, A70, A50, A50s, A40, A40s, A30, A20, A20e, A10, J6, J6+, J8, J8+, M10, M20, M30, S20 (SM-G980), S20 plus (SM-G986), S20 Ultra (SM-G988), Note 10 Plus 5G, Note 10 Plus, Note 10, S10 Plus, S10, S10e, M30, M20, Fold, Note 9, S9 Plus & S9.
Alternate solution links
The above method may not work on certain models to if it is not working for you please try the below tutorial which uses a different but effective method for the same.
However if you have faced any issues which needs any support while trying to remove FRP lock on your Galaxy Android Smartphone, please feel free to post it in the comment section below, don't worry I will help you as fast as I can.
If "How To Remove FRP Lock On Android 10 Galaxy Smartphone (2020 Latest Method)?" tutorial really helped you, please give a like/share on social networking websites by using the below given buttons.