In this article we will be providing you all the download links of Samsung Windows Odin Flash Tool for Galaxy Smartphone.
We have all the below mentioned Odin versions;
Odin v3.06, Odin v3.07, Odin v3.09, Odin v3.10.0, Odin v3.10.5, Odin v3.10.6, Odin v3.10.7, Odin v3.11.1, Odin v3.11.2, Odin v3.12.3, Odin v3.12.4, Odin v3.12.5, Odin v3.12.7, Odin v3.12.10, Odin v3.13.1, Odin v3.13.3, Odin v3.14.1 and the latest Odin v3.14.4. In addition to the standard Odin versions we will providing the download links for Odin Multi Downloader the Odin Multi Downloader v4.28.0, Odin Multi Downloader v4.29.0, Odin Multi Downloader v4.34.0, Odin Multi Downloader v4.38.0, Odin Multi Downloader v4.42.0, Odin Multi Downloader v4.43.0 & Odin Multi Downloader v4.44.
However before listing out the download links let me allow you to give a brief intro on Samsung's official Odin flash tool for Windows.
What is an Odin Flash Tool?
First of all this is a flash tool officially created and maintained by Samsung for their Galaxy Android Smartphone software repairs. The Odin app can be used to flash Stock ROM, custom ROM's, root Files, custom recoveries, TWRP etc on to your Samsung Galaxy Smartphone.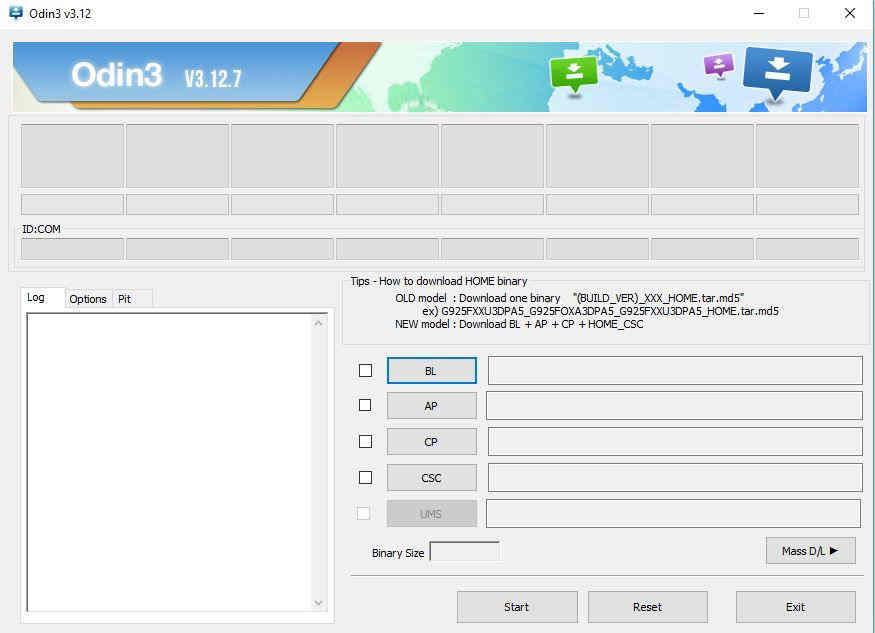 Odin UI
What is an Odin Multi Downloader Tool?
Odin Multi Downloader is a similar tool just like the normal Odin app. Apart from the basic features it also holds options to select the package number, OPS protection etc.
Now lets proceed to the download links.
All Samsung Odin flash tool download links
For your ease the Odin versions along with the compatible Android firmware versions are also mentioned.
For Cupcake 1.5, Donut 1.6, Eclair 2.0 – 2.1, Froyo 2.2 – 2.2.3, Gingerbread 2.3 – 2.3.7, Honeycomb 3.0 – 3.2.6, Ice Cream Sandwich 4.0 – 4.0.4 & Jelly Bean 4.1 – 4.3.1
For KitKat 4.4 – 4.4.4 and Lollipop 5.0 – 5.1.1
For Marshmallow 6.0 – 6.0.1, Nougat 7.0 – 7.1.2, Oreo 8.0 – 8.1
For Android 9.0 Pie
For Galaxy Note 10, Galaxy S10, Galaxy S20 Series use Odin v3.13.3
For Android 10 Android 11 & Android 12
All Samsung Odin Multi Downloader download links
Patched Odin Download Links
If any of the download links are not working, please feel free to post it in the comment section below, don't worry I will update the links as fast as I can.
If "Download Odin Flash Tool For Samsung Galaxy (All Versions)" tutorial really helped you, please give a like/share on social networking websites by using the below given buttons.