This tutorial will help you to take a screenshot on your Samsung Galaxy A03s.
When we are moving more and more towards digital payments, screenshots feature on your Samsung Galaxy Android Smartphone has increasingly become important day by day.
However do you know how to take a screenshot/screen print/screen capture?
Don't worry even if you don't because we have created this tutorial keeping you people in mind. However this tutorial is entirely dedicated to the all new Samsung Galaxy A03s only.
Before proceeding with the detailed tutorial let me give you a brief idea about Galaxy A03s. The A03s is the latest Smartphone from Samsung for the developing market at a budget price. It comes with a 6.5 inches PLS LCD touchscreen display, Android 11 firmware with One UI 3.1 Core on top of it, 64GB storage, 4GB of RAM and a lot more at a very affordable price of $152 (approx).
What is the use of a Screenshot?
As alreaady said, screenshots will help you to remember a particular page for safe keeping. The screenshot will be in JPG or PNG format so that you can store it anywhere. It is also helpful as a proof of payment. You just need to take the screenshot of the payment page.
Also you may take screenshots of memories from social media's. Or some fun moments.
Steps to take screenshot on Samsung Galaxy A03s
In total we have three different methods to take screenshot on your Galaxy A03s. Please continue reading this tutorial to know more in detail about each method.
Method-1
Using Palm Swipe to take a screenshot on Galaxy A03s

In this method we are going to take the screenshot using a palm swipe. To do that first you need to enable the feature from settings menu if not already did.
For that tap on "Settings" from the app drawer.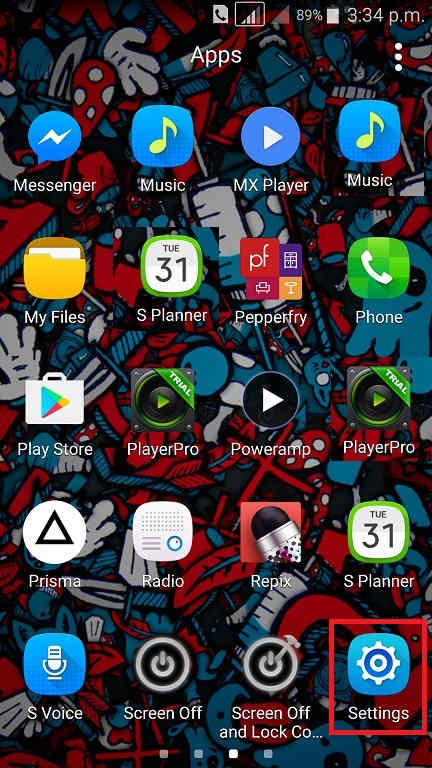 Now scroll down and tap on "Advanced features".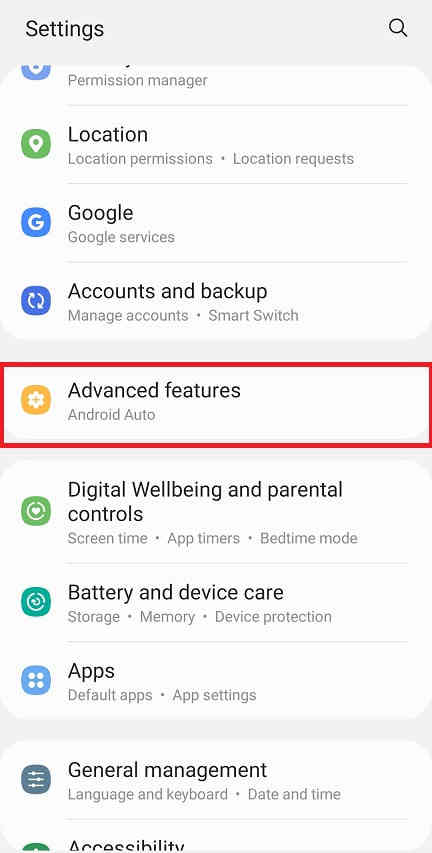 When in "Advanced features" menu tap on "Motion and gestures".
Once done you will get the below page. Here enable "Palm swipe to capture" if not already did on your Galaxy A03s.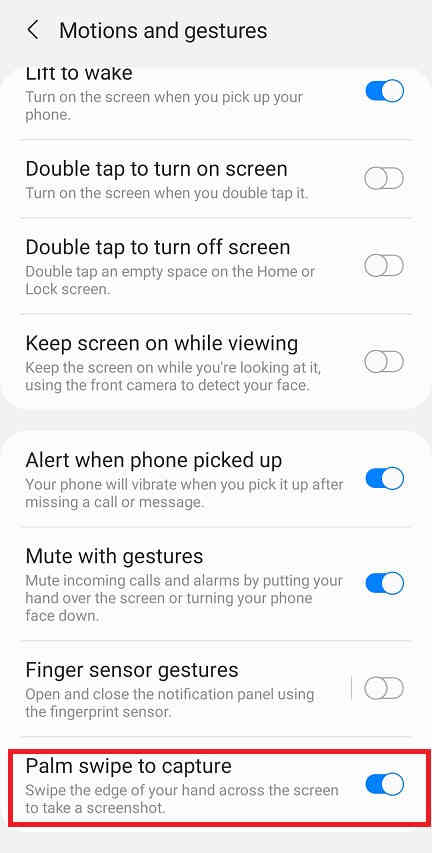 When enabled the switch will turn to blue colour and will get greyed out when disabled.
Now as the feature name suggest just swipe your palm across the screen of which you want to have a screenshot and the image will be saved in the "Gallery" in JPEG or PNG format
However if you want to edit the way the screenshots are saved and need to do some other customization please tap "Screenshots" when in the "Advanced features" main menu. Below given is the "Advanced features" main menu.
Now you will get the below page. Here you may disable the "Screenshot toolbar", change the screenshot image format from JPG to PNG etc.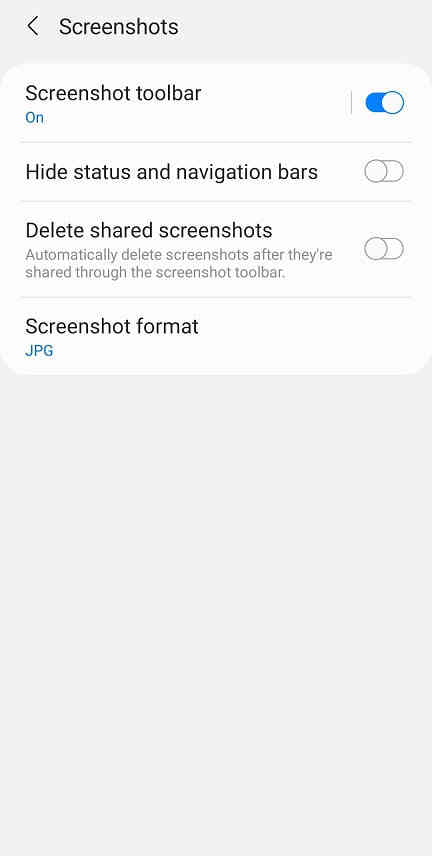 Now lets proceed to the method 2.
Method-2
Using Hardware Keys to take a screenshot on Galaxy A03s
This method is the most easiest one. Just press and hold the "Vol-Down" + "Power" buttons at the same time to get a screenshot of the current screen.
Method-3
Using Assistant Menu  to take a screenshot on Galaxy A03s
All of the above methods were there from the starting but this screenshot shortcut came in with One UI only. To take screenshots from the assistant menu on Galaxy A03s please navigate to Settings->Accessibility->Interaction and dexterity. Please check the below image for better understanding.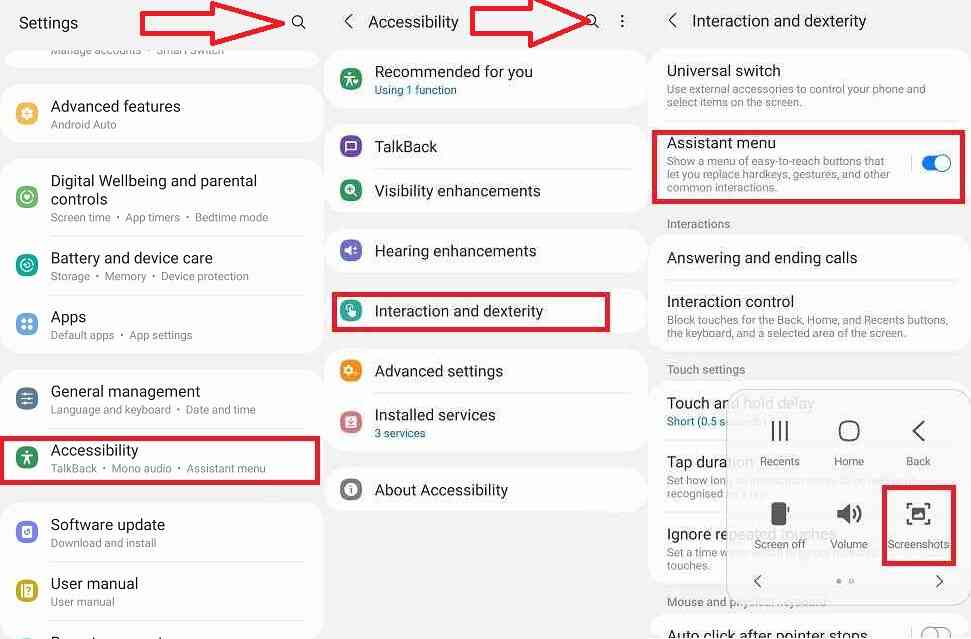 Now when you are in the Interaction and dexterity menu please tap on the slide switch alongside "Assistant menu" to enable. Once enabled you will get a circle with 4 dots on it. When you tap it you will get a popup menu like shown in the above screenshot. There please tap on "Screenshots" to take the screen record of the current screen.
More Galaxy A03s tutorials;
Normal queries for this tutorial
How To Take A Screenshot on Samsung Galaxy A03s SM-A037F?
How To Take A Screen print on Samsung Galaxy A03s SM-A037F?
If you have faced any issues while trying to take a screenshot on your Galaxy A03s, please feel free to post it in the comment section below, don't worry I will help you as fast I can.
If "How To Take A Screenshot On Samsung Galaxy A03s?" tutorial really helped you, please give a like/share on social networking websites by using the below given buttons.