This tutorial will help you to resolve/fix Google Pay payment issues like failed/pending during a transaction on your Samsung Galaxy Android Smartphone or any other Android phone. We highly recommend you trying the official Google help page for this, however if you want to try our steps instead please continue with the article.
A Preface
Ever since the pandemic everything has gone "more digital", starting from education to entertainment so as the payments. The payment platforms has the perfect leverage these days and they have succeeded in taking a step further into everyone's day to day life. For example if you want to loan a small amount to your friend, what will you do now, will you "Google Pay" it or give him the cash physically. Obviously you will Google Pay it, right. Google Pay is like a synonym for money transfer now a days in the digital era.
However all payment platforms has it's flaws so as Google Pay. But the good news is that most of the payment failed/pending messages from Google Pay can be resolved by following some very simple steps given here though.
What is Google Pay?
As already said Google Pay is a digital payment platform from the tech giant Google. With Google Pay you can send and receive money to and from your friends, family and can also use it for buying items both online and offline.
What are the common Google Pay Error messages you get while making a transaction?
These are the common Google Pay error messages you get.
Payment failed. If your funds are debited, they will be refunded in 3-5 business days.

Payment pending/processing. Don't try to make the same payment again while the status is 'Payment processing/Pending'
The below 2 screenshots illustrates an actual failed transaction from Google Pay.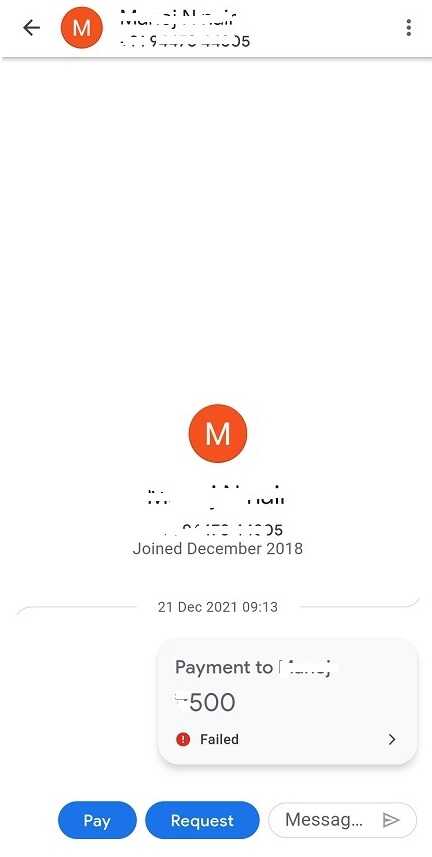 Detailed information regarding the failed payment is given below.

Common Google Pay Payment Issues
The transaction failed but the money is deducted from bank account.
The transaction is processed/successful but money was not credited to the recipient's bank account.
The merchant transaction is showing successful/processing but the payment was not updated.
The merchant transaction is showing failed but the payment was not updated.
The bill payment is showing settled/processing but the payment was not updated.
The bill payment failed but the payment was not updated.
Unable to do any transaction in Google Pay.
Normal queries which may end up on this tutorial
How to cancel a failed transaction in Google Pay
Google Pay transaction failed but money debited from bank account
Google Pay payment processing but amount debited
You are unable to make this payment at the moment
How to cancel processing payment in Google Pay
Why Google Pay not working today for me
Google Pay pending status for transaction
Steps to resolve/fix Google Pay payment failed/pending  during a transaction
There maybe different scenarios for the Google Pay transaction to get failed. So lets list them one by one below alongside with it's solution.
Scenario 1 (To fix Google Pay payment failed) Unstable Or No Internet Connection

Lets start with the simplest troubleshooting steps first. In order to make a transaction Google Pay needs an active stable internet connection. For example if you are having data connectivity issues and the payment is processing while there is an unstable data connection there is always a chance to get the payment failed.
To resolve the issue try connecting your phone to a WiFi network or a stable cell phone internet.
Scenario 2 Outdated Google Pay App

Yes you heard it right, an outdated app can also result in failed payment in Google Pay. Each app comes with functionality and stability improvements so please update your Google Pay app and try the transaction again.
Scenario 3 Wrong Phone Number

If you are trying to send the money to a wrong mobile number the payment can get failed. Also in some cases that particular phone number you entered doesn't have even have an active Google Pay account associated with it. So please confirm the phone number before making the payment again.
Scenario 4 App Cache Issues

A cache problem with Google Pay can also cause a failed transaction. For that you can try performing any of the below methods.
1. Clear the app cache. For that please Go to "Settings->Apps->GPay->Storage" and there "Clear Data" & "Clear Cache". Please check the below screenshot for easy understanding.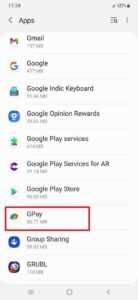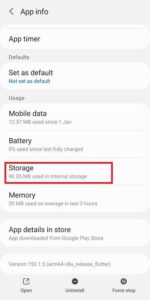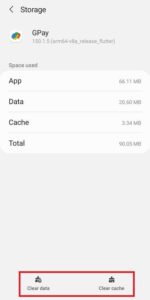 2. If the issue is still not resolved you may try unstalling and resintalling the Google Pay app by navigating to "Settings->Apps->GPay".
In both cases you may need to re-enter your details like you install Google Pay for the first time on your phone. However by performing both the steps or any of it will resolve the Google Pay Payment failed/pending/processing issue for sure.
If "How To Resolve/Fix Google Pay Payment Failed/Pending Transaction?" tutorial really helped you, please give a like/share on social networking websites by using the respective buttons.