Hi friends, this tutorial will help you to root your Samsung Galaxy A8 SM-A800F running on Lollipop 5.1.1 firmware.
Image Credits: Samsung Electronics
This is the long waited tutorial to root your favourite Samsung Galaxy A8 SM-A800F running on Android Lollipop 5.1.1 firmware. This is a simple rooting method which is done with the help of the most famous rooting tool Odin.
But, please note that rooting will void your warranty, but you can always unroot it to reinstate warranty. SamsungSFour.Com will not be liable for any damage caused as a result of executing the below given steps.
Before proceeding with the procedure given here please make sure that you have made a complete backup of your phone memory including contacts, photos etc. Also the phone battery should be charged to a min of 80%.
Steps To Root Samsung Galaxy A8 SM-A800F Running On Android Lollipop 5.1.1 Firmware
1. To start with please download the below  files for rooting Samsung Galaxy A8 SM-A800F ;
Odin v3.10 (you need to extract it)
Please download all the above files to your PC desktop for easy access.
3. Now you need to enable "USB debugging mode" on your Samsung Galaxy A8, for that please got to Settings->Developer Options->USB Debugging. If you are not seeing the developer options in the settings please tap on the phone "build number" found in the "About Device" for more than 7 times. Or you can try the below given tutorial.
How To Enable USB Debugging On Galaxy Smartphone (Lollipop 5.0 or Higher)?
4. Once it is done you have to enter your Samsung Galaxy A8 into "Download Mode", to enter switch off your device and press and hold "Volume Down+Home+Power buttons at the same time until you get the warning screen like the one given below.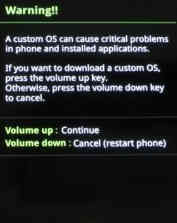 Now please click "Volume Up" button to confirm and you will be entered into the "Download Mode". The below screenshot shows you the final download mode screen.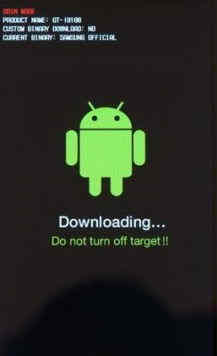 4. Now you need to open the Odin3 v3.10.6.exe file as administrator and need to connect your Samsung Galaxy A8  with your computer using the USB data cable. If you are getting an "Added" message from the Odin a successful connection can be confirmed. Now click the "AP" button and select the SpaceX-Kernel-0.1_Auto-Root_A800F.rar file from your PC desktop.
Please make sure that "Auto Reboot" and "F. Reset Time" options are only check marked in the Odin. This can be confirmed from the "Options" tab.
5. Once confirmed click the "Start" button in the Odin and wait for the rooting procedure to get completed. When it's completed your the device will restart and it will attain superuser privileges.
You can confirm whether the procedure was successful or not from the "Pass" message from Odin and also using any free root checker app available at the Google Play Store.
If you have faced any issues while rooting your Samsung Galaxy A8 SM-A800F Running On Lollipop 5.1.1, please feel free to post it in the comment section below, don't worry I will help you as fast I can.
If "How To Root Samsung Galaxy A8 SM-A800F On Lollipop 5.1.1?" tutorial really helped you, please give a like/share on social networking websites by using the below given buttons.