Image Credits: Samsung Electronics
The Samsung Galaxy Tab S2, one of the very successful tablet in the market which is very much known for it's performance and ease of use. As you may already know it comes in different screen sizes and hardware capabilities, also it has lot of variants.
Sorry guys, I am not going any further into it's features or reputation because our motive here is to root this wonderful tab running on Android Nougat 7.0 firmware using the CF Auto-Root method.
Table Of Contents
Compatible Galaxy Tab 2 variants
Please note that this method is compatible on Samsung Galaxy Tab S2 SM-T710, Samsung Galaxy Tab S2 8.0 SM-T713, Samsung Galaxy Tab S2 8.0 4G SM-T715, Samsung Galaxy Tab S2 8.0 SM-T715N0, Samsung Galaxy Tab S2 8.0 LTE SM-T719, Samsung Galaxy Tab S2 9.7 SM-T810, Samsung Galaxy Tab S2 9.7 SM-T813, Samsung Galaxy TAB S2 9.7 SM-T815, Samsung Galaxy Tab S2 9.7 SM-T815N0, Samsung Galaxy Tab S2 9.7 SM-T817, Samsung Galaxy Tab S2 9.7 SM-T818 and Samsung Galaxy Tab S2 9.7 SM-T819 running on Android Nougat 7.0 firmware only.
Please don't forget to back up contacts and device data before starting the rooting procedure. The rooting process can sometimes lead to complete data loss, so it is better to take precaution. Also make sure that you have charged your Galaxy Tab S2 to 80% of it's battery capacity.
Steps to root Galaxy Tab S2 on Nougat 7.0 firmware using CF-Auto-Root
1. If you are sure that you have made all the pre-root preparations correctly it's the turn to download the necessary root files from the below links;
Once the file is downloaded you need to extract it, the extracted contents will be like the one shown in the below screenshot.

2. In the next step, you need to enable the "USB debugging" on your Tab S2 if not enabled already. To enable USB debugging please go to "Settings-> Developer options"and enable the "USB debugging" from the "Developer options" menu. If there is no developer options under the "Settings" menu please tap on the "build number" 7 times under "About device".
The detailed steps to enable USB debugging is explained for Marshmallow firmware below, the procedure is almost same on Nougat.
3. Now please enable "OEM unlock" if not done already. To enable "OEM unlock" please go to Settings>About phone, and tap on the "Build number" 10 times until you get a message that you are a "developer.". Once you have enabled the "Developer Options" tap on it from the "Settings" main menu and you will see the same screen as shown below.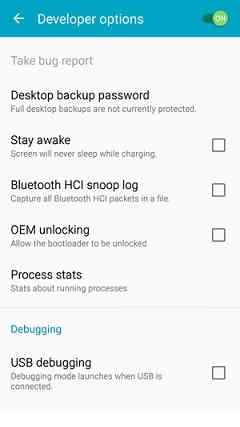 Now click on "OEM unlocking" and you will get a popup warning as shown below, tap enable it if you would like to proceed.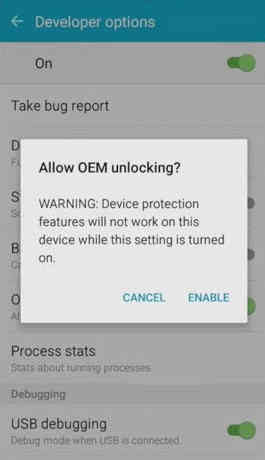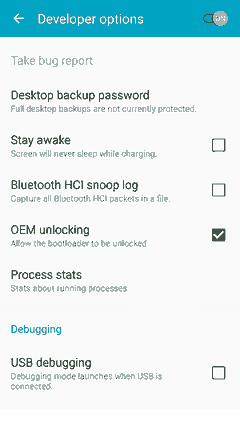 Alternately you can try the dedicated tutorial given below for enabling "OEM unlock".
4. After "OEM Unlock" is enabled, please switch off your Tab S2 and enter it into the "Download mode". To enter into "Download Mode" please press and hold the "Power"+"Vol Down"+"Home" buttons until you get a warning screen. Once you get the warning screen please release all the buttons and press "Vol Up" button to enter into the "Download mode".
Kindly check the below "Download mode" tutorial for Marshmallow firmware, the procedure is almost same for Nougat.
5. Now you need to open the "Odin" application as administrator and have to connect your Tab S2 using the USB data cable to your computer. If the connection was successful you will get an "Added" message from "Odin" application. If you didn't get an "Added" message please reinstall the Samsung USB drivers for your device and try again.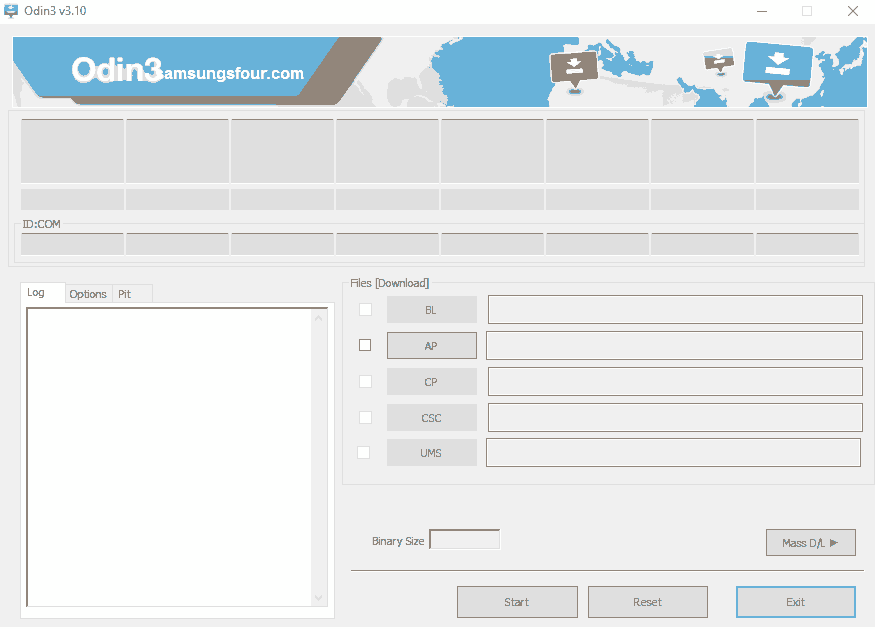 6. Now please click the "AP" button in the Odin app and select the "tar.md5" file which you have already downloaded and extracted to your PC.
Once confirmed that everything is done as mentioned in the above steps, please press the "Start" button in the Odin to begin the rooting procedure. Please note that your tab may restart once the rooting process is finished so sit back and relax and enjoy the root.
Troubleshooting
Sometimes bad things can happen, so if you are thrown into an endless android bootloop after this procedure please resolve it by following the below given tutorial. Don't worry because boot loop is a glitch in android firmware which can be resolved easily.
Please note that rooting will void your warranty (don't worry you can always reinstate warranty by unrooting it), so kindly proceed at your own risk. SamsungSFour.Com will not be liable for any damage caused as a result of executing any of the steps given above.
If you have faced any issues while rooting your Galaxy Tab S2 running on Android Nougat 7.0, please feel free to post it in the comment section below, don't worry I will help you as fast as I can.
If "How To Root Galaxy Tab S2 On Nougat 7.0 Using CF-Auto-Root? (All Models)" tutorial really helped you, please give a like/share on social networking websites by using the below given buttons.