This tutorial will help you to root your Samsung Galaxy S4 I9505 & I9500.
The pros and cons of rooting Galaxy S4

a. Pros
1. You will get root level access to your Galaxy S4 device which is normally not available in unrooted phones.
2. You can get full benefit of apps like Titanium Backup, Root Explorer etc.
3. You can restrict the apps which works in the background to a frozen state.
4. Rooting will increase the support of more apps which need root access.
b. Cons
1. Your warranty will be void. (but can be reclaimed after unrooting)
2. There is always a chance to brick your device.
Steps To Root Galaxy S4
1. First step is to enter your device into "Download Mode", to initiate the process Power Off your Galaxy S4. Now press Volume Down+Center Home+Power buttons at the same time until a warning screen appears. Now let go of all the buttons.
2. Next connect your Samsung Galaxy S4 with your computer/laptop
3. Now you need to download certain utilities for the rooting process like, CWM recovery, ODIN, Samsung USB Drivers, and SuperSU Zip files.
Download Links:
a. Download CWM recovery
b. Download ODIN
c. Download Samsung USB Drivers
d. Download SuperSU Zip files
Please download all the above mentioned files to your computer desktop so that it can be easily accessible for rooting your Samsung Galaxy S4.
4. Now unzip the ODIN and run the odin3 v1.85.exe so that a window similar to the one given below will appear. And if a yellow highlighted box like the one shown below is there, you can proceed further. If the yellow box is not there you need to install Samsung Mobile USB drivers, as it may be because of the missing USB drivers. You can download all the USB drivers from the link given above.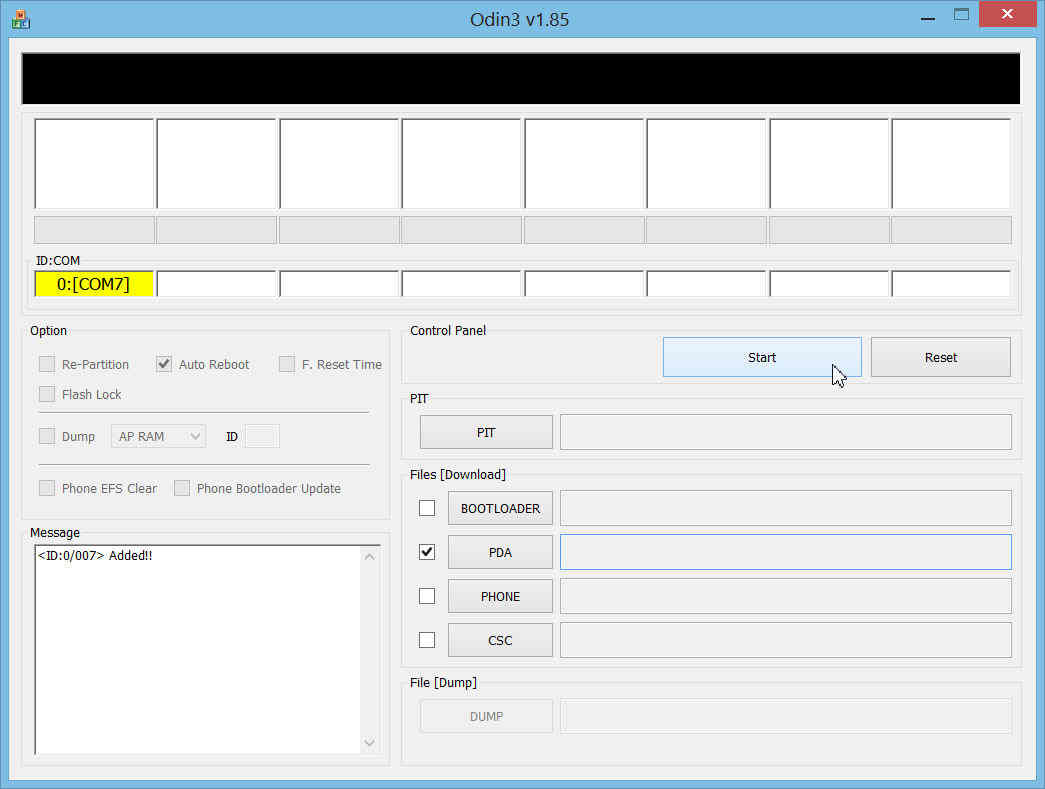 5. Now you need to transfer the firmware through the ODIN utility, this can be done by clicking on the "PDA" in the ODIN window and selecting the CWM recovery you downloaded earlier, after selecting the correct .tar file please click "Start"
6. Once you click "Start", what happens is that a custom CWM recovery is flashed into your Samsung Galaxy S4 device. Once the process is completed successfully your device will restart. If you get "PASS" from Odin, it means that the whole process went good.


7. Now once the phone is restarted, copy the SuperSU.zip file to your S4 (anywhere), after that "Power Off" your device. Now press and hold Volume Up+Center Home+Power buttons and let go of "Power Button" once you see the "Samsung Logo" still holding Volume Up and Center Home buttons.
8. If you have done the above steps successfully then you will be booted into CWM Recovery, now choose "install zip from sdcard" and hit the Power button, and select "choose zip from sdcard" and hit the Power button and select "0/" directory and hit the Power button. Browse for the "SuperSU.zip" file and select it using the "Power Button". You will get a popup click "Yes" and press the "Power Button". Now your Samsung Galaxy S4 will be installed with su binaries and SuperSU superuser app which will result in "rooting"  of your Smartphone.
9. Once it's done, go to "Main Menu"  and choose "reboot system now", and press "Power Button" which will reboot the phone and once rebooted you will be able to see SuperSU app in your app drawer. Now run the SuperSU app and update the binaries. That's it you are good to go…hurray!
Now it's time to confirm that your Samsung Galaxy S4 (I9500 or I9505)) is actually rooted or not. For that install root required apps like "Root Explorer" or "Titanium Backup" and check whether you are getting root access.
Note: You can root all the after said Samsung Galaxy S4 variants with this tutorial ((supported devices), Samsung Galaxy S4 GT-i9500 or Korean (E300S, E300K, E300L), GT-i9505, Canadian Galaxy S4 SGH-i337M (Bell, Rogers, Telus), Sprint Galaxy S4 SPH-L720, T-Mobile Galaxy S4 SGH-M919, AT&T Galaxy S4 SGH-i337, Verizon Galaxy S4 SCH-i545, US Cellular Galaxy S4 SCH-R970, CSpire Galaxy S4 SCH-R970x)
If "How to root Samsung Galaxy S4 (I9505, I9500)?" tutorial really helped you, please give a like/share on social networking websites by using the below given buttons.