Image Credits: Samsung Electronics
The Samsung Galaxy A7 2017 SM-A720F is the latest among the A7 upgrades over the years. When checking the specs we will get an idea how far it has been evolved through the years both aesthetically and hardware wise. But what if I say you can improve it's performance further, maybe by pushing it's limits, yes, it can be done by rooting this beast. Rooting will enable you to uninstall the unwanted bloatwares plus to install apps like "Greenify" which will help you to disable the unwanted apps from running in the background thereby saving a lot of resources.
Kindly keep in mind that this method is compatible on Samsung Galaxy A7 2017 SM-A720F running on Android Nougat 7.0 firmware only. Please don't try this on any other version as it may brick it completely.
Please don't forget to back up all your contacts and device data before beginning the rooting. Also make sure that you have charged your phone to 80% of it's full capacity.
Steps to root Samsung Galaxy A7 2017 SM-A720F running on Android Nougat 7.0 firmware using the CF-Auto-Root method
1. Please select the correct root file from the below links and download it to your computer desktop folder for easy access.
Downloads For Rooting Samsung Galaxy A7 2017 SM-A720F Using CF Autoroot
The files will be zip archived with two main files in it, the Odin and the root file. So after downloading please extract it so that you will get files like the one given in the screenshot below.

2. In the next step, you need to enable the following from the "Settings" menu;
Developer options (if not enabled already please tap on the "build number" 7 times under "About device" from settings menu)
OEM unlock (also from developer options, for some devices with Marshmallow firmware and up you also need to perform and OEM unlock to root the phone)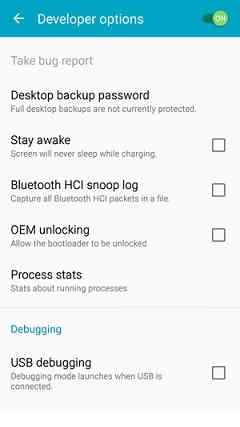 Click on "OEM unlocking" and you will get a popup warning as shown below, now tap to enable.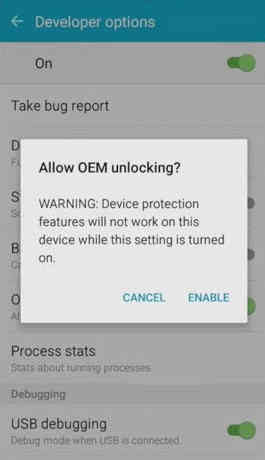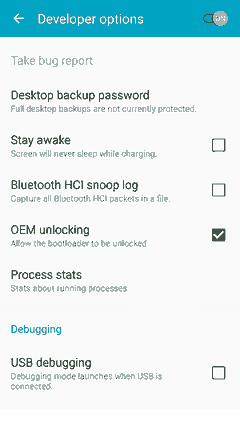 A more detailed steps to enable both the USB debugging and OEM unlocking on Galaxy Smartphones are given below, methods are almost same on Nougat firmware.
3. After "OEM Unlock" is enabled (Don't worry if you don't have the "OEM Unlock" option please continue with the rest of the steps), please switch off your phone and enter it into the "Download mode". To enter into "Download Mode" please press and hold the "Power"+"Vol Down"+"Home" buttons until you get a warning screen. Once you get the warning screen please release all the buttons and press "Vol Up" button to enter into the "Download mode".
In Marshmallow and above, there is a procedure needed to exit from the "Download Mode", so it's better to follow the detailed tutorial given below.
4. Now in this step you need to run the "Odin.exe" (from the extracted files) file with admin privileges and have to connect your Galaxy A7 2017 using the USB data cable to your PC. You will get and "Added" message when done and if you didn't get an "Added" message please reinstall the Samsung USB drivers for your phone and try to reconnect.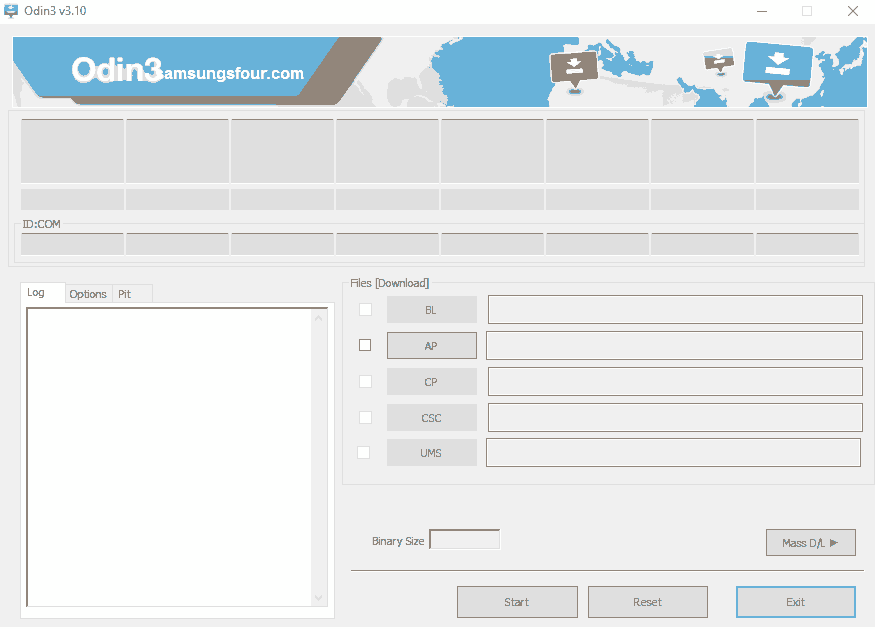 5. This is the ultimate step where you need to click the "AP" button in the Odin app, then select the "tar.md5" root file which you have already downloaded and extracted to your PC desktop. Now click the "Start" button in the Odin app to start the rooting process. Your device may reboot during the course which is quite normal, and once booted up you are good to go, a "Pass" message from the odin app can be taken as a success confirmation.
If you are thrown into an endless android bootloop after rooting please resolve it by following the below given tutorial. Don't worry because boot loop is a glitch in android firmware which can be resolved easily.
Normal queries for this tutorial
How To Root Samsung Galaxy A7 2017 SM-A720F Running On Android 7.0 Nougat Using The CF-Auto-Root Method?
Please note that rooting will void your warranty (don't worry you can always reinstate warranty by unrooting it), so kindly proceed at your own risk. SamsungSFour.Com will not be liable for any damage caused as a result of executing any of the steps given above.
If you have faced any issues while rooting your Galaxy A7 2017 SM-A720F running on Android Nougat 7.0, please feel free to post it in the comment section below, don't worry I will help you as fast as I can.
If "How To Root Galaxy A7 2017 SM-A720F On Android Nougat 7.0?" tutorial really helped you, please give a like/share on social networking websites by using the below given buttons.