Hi friends, this tutorial will list out all the available secret codes and hidden menu codes of your favourite Samsung Galaxy M01 Core.
The Galaxy M01 Core comes with the very basic features of a Android Smartphone like 5.3 inches PLS TFT capacitive touchscreen display, 8MP camera, 2GB RAM, 32GB internal storage etc. This is for the budget sector requiring the functionalities of a Smartphone but at a very affordable price.
As our today's main objective doesn't justifies further detail into the specifications lets list out the secret codes for M01 Core.
However if you are looking for more M01 Core tutorials please have a look at them below;
Before listing out the codes first lets get an idea on;
What are secret codes?
Secret codes are hidden codes on all Android Smartphones which will help you to configure or to get information which is not possible normally. It's always risky to play with secret codes without knowing what it will do to your phone, so be cautious.
Please note that these codes may not work on carrier locked phones unless their bootloader is unlocked. Also some codes may not work after some software/security update. So don't panic when some codes are not working.

How to execute a secret code on your Samsung Galaxy M01 Core?

To execute the secret codes jut type in the code as shown in the screenshot below and it will run automatically if it's compatible with your phone. Some codes will not work even if it's for your model, there can be many reasons like a locked bootloader, carrier lock etc. Even some firmware update/security updates results in blocking of some codes so don't panic if any of the codes are not working.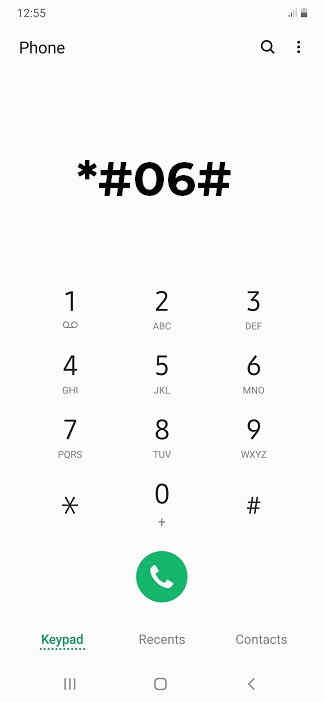 So as you can see in the above screenshot just type the code to your normal dialing keypad, and hurray! the code will just execute.
If still not confident please watch this video.
All Secret Codes of Samsung Galaxy M01 Core

To Check IMEI number : *#06#
To To Check software version: *#1111#
To Check Hardware Version : *#2222#
To Check Dump mode : *#9900#
To Check General Test Mode : *#0*#
To Check TSP / TSK firmware update : *#2663#
To Check Diagnostic configuration : *#9090#
To Check Battery status ADC, RSSI reading : *#0228#
To Check GSM status information : *#0011#
To Check Software and hardware info : *#12580*369#
To Check Audio Loopback Control : *#0283#
To Change USB Settings: *#0808#
To Update Camera Firmware: *#34971539#
To To Check Audio Loopback Control : *#0283#
To Show Camera Firmware Menu: *#34971539#
Normal queries for this tutorial
All hidden menu codes of Samsung Galaxy M01 Core
If any of the codes are not working or you have any Galaxy M01 Core useful codes with you which are not published here, please feel free to post it in the comment section below so that everybody will benefit from it.
If "All Secret Codes Of Samsung Galaxy M01 Core (Hidden Menu)" tutorial really helped you, please give a like/share on social networking websites by using the below given buttons.