Hi friends, today we are going to guide you through the whole process to convert your Samsung Galaxy Smartphone into a Bluetooth microphone.
Did you ever dreamed of having a Bluetooth wireless microphone in your home which can be connected to your Bluetooth speaker or home theater? If you did we have got you covered here. The highlight about this is that you don't have to spend even a penny for that because we are going to convert your Samsung Galaxy Smartphone itself to a Bluetooth microphone.
This microphone comes with noise-canceling technology so you don't have to worry about external disturbances.
What is a Bluetooth Microphone?
A Bluetooth microphone is a wireless audio input device that uses Bluetooth technology to transmit audio signals to a compatible receiver, such as a computer, smartphone, or speaker system. Bluetooth microphones are commonly used for various purposes, including recording audio, making voice calls, live streaming, and performing in public speaking or musical events. They offer the convenience of mobility and eliminate the need for physical cables, allowing for more flexibility and ease of use.
Steps to convert a Samsung Galaxy Smartphone to Bluetooth Microphone
We are going to help you with two different methods for this. Both of the methods uses a 3rd party app.
Method 1
In this method we are using the Live MIC- Bluetooth Microphone application. By using this app you will get the noise cancellation feature for your microphone.
For that first you need to install the app from this link. Once installed please open the app.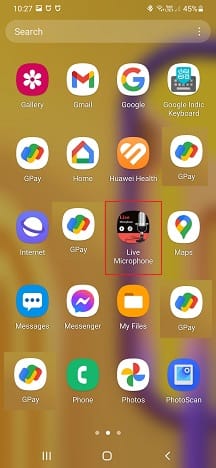 Tap the icon to open the app.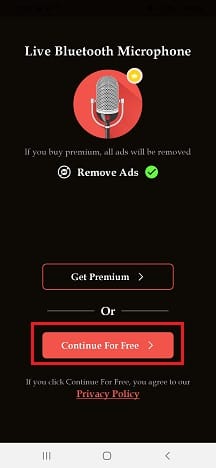 You will get the above welcome page. Here tap on "Continue For Free".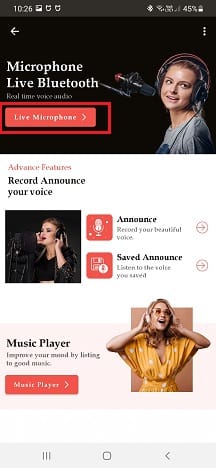 In the above page tap on "Live Microphone".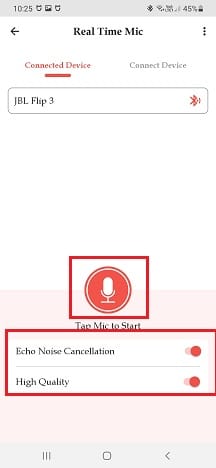 In this page enable "Echo Noise Cancellation" and "High Quality". Now tap on the mic icon to enable it. Now lets start singing your favourite song.
Method 2
In this method we will be using the "Bluetooth Loudspeaker" application which can be installed from here. Once installed please open the app and you will get the below page, here enable the mic by tapping the mic icon on the bottom left corner.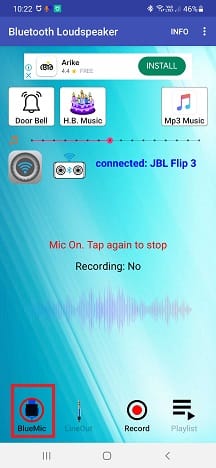 You can control the gain output of the mic and can also record. Hope this helped.
Normal queries for this tutorial
How to convert a galaxy smartphone to Bluetooth microphone android?
Use phone as microphone for Bluetooth speaker
Bluetooth mic for speaker
Microphone app for Bluetooth speaker android
Wireless microphone for Bluetooth speaker
Bluetooth mic app
Bluetooth mic for YouTube
Compatible model list
This method is compatible on all new Galaxy Smartphones like S23, S23+, S23 Ultra, S22 5G, S22+ 5G, S22 Ultra 5G, S21 FE 5G, S21 5G, S21+ 5G, S21 Ultra 5G, M02s, M02, M62, A02s, A32 5G, A02, A32, A52 5G, A52, A72, Xcover 5, F62, F02s, F12, M10, M20, M30, A10, S10, A30, S10+, S10e, A50, A20, S10 5G, A40, A70, A2 Core, Tab A 8.0 & S Pen (2019), Tab A 10.1 (2019), Tab S5e, View2, A20e, A80, M40, A60, Tab A 8.0 (2019), Xcover 4s, Note10, Note10 5G, Note10+, Note10+ 5G, A10e, Tab S6, M10s, M30s, Fold, Fold 5G, A10s, A50s, A30s, A90 5G, A70s, A20s, Tab Active Pro, A51, S20, S20+, S20 Ultra 5G, S20+ 5G, S20 5G, S20 Ultra/LTE, S20 FE, S20 FE 5G, Note10 Lite, Note20, Note20 5G, Note20 Ultra, Note20 Ultra 5G, M31, M21, M11, M01, M01s, M01 Core, M31s, M51, M31 Prime, M21s, Z Fold2 5G, A71, A01, A31, A51 5G, A41, A Quantum, A21s, A71 5G, A21, A01 Core, A71 5G UW, A51 5G UW, A42 5G, A12, J2 Core (2020), Tab S6 5G, Tab A 8.4 (2020), Tab S6 Lite, Tab S7, Tab S7+, Tab A7 10.4 (2020), Tab Active3, Xcover Pro, Xcover FieldPro, Z Flip, Z Flip 5G and F41.
If you have faced any issues while convert your Galaxy Android Smartphone to a Bluetooth microphone, please feel free to post it in the comment section below, don't worry I will help you as fast I can.
If "How To Convert A Galaxy Smartphone To Bluetooth Microphone?" tutorial really helped you, please give a like/share on social networking websites.