This tutorial will help you to enter the recovery mode on your Samsung Galaxy M53. However please be informed that you have to be well educated about the ill effects of a failed recovery mode action, so be responsible.
If you don't know what you are doing you can even permanently brick your phone. So please proceed only if you know what you are doing.
A preface
Ever since the roll out of latest Android firmwares, entering into the recovery mode and download mode on Samsung Galaxy Android Smartphones has become a hideous task. The old tricks wont work on these new firmware versions.
So how can we enter into the "Recovery" mode on your Samsung Galaxy M53 which is currently running on the latest firmware like android 12. Don't worry because we have found a workaround which will help you to achieve the before said in very simple steps.
The Samsung Galaxy M53
The Galaxy M53 is a mid range phone with 6.7 inches Super AMOLED Plus touchscreen display having 120Hz refresh rate, 128GB 6GB RAM, 128GB 8GB RAM, 256GB 8GB RAM storage and RAM options, 108 MP rear camera and a lot more.
It is available in three colour options; Green, Blue, Brown.
Now lets proceed to the tutorial.
Steps to enter recovery mode on Galaxy M53
1. To enter "Recovery Mode" you need to switch off your M53 and connect it using a USB cable to PC.
2. Now press and hold the "Vol Up" button along with the "Power" button at the same time.
3. Once you see the phone model on screen release the "Power" button while holding on to the "Vol Up" button.
4. Now you will be entered into the Android Recovery Mode.
You may cross check the below image for the final "Recovery Mode" menu.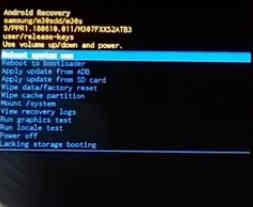 That's it friends, you have successfully entered into recovery mode on M53.
If "How To Enter Recovery Mode On Galaxy M53 SM-M536B?" tutorial really helped you, please give a like/share on social networking websites by using the below given buttons.