Hi friends, this step by step tutorial will help you to enter the recovery mode on your Samsung Galaxy A33 5G. However you need to be cautious while playing with the recovery mode menu though. If anything done wrong it can cause instability and data loss on your phone.
This method is compatible on Galaxy A33 5G models like SM-A336E, SM-A336B, SM-A336B/DS, SM-A336B/DSN & SM-A336E/DS.
A preface
Ever since the roll out of latest Android firmwares, entering into the recovery mode Galaxy Smartphones has become a hideous task. The old tricks wont work on these new firmware versions.
So how can we enter into the "Recovery" mode on your A33 5G which is currently running on the latest firmware like android 12. Don't worry because we have found a workaround for this.
Galaxy A33 5G
The Galaxy A33 5G has a 6.4 inches Super AMOLED display with 90Hz refresh rate, 128GB 4GB RAM, 128GB 6GB RAM, 128GB 8GB RAM, 256GB 8GB RAM of storage and RAM etc.
It has stereo speakers but misses the 3.5mm headphone jack. The Galaxy A33 5G holds a 5000 mAh battery which is enough to power the phone for hideous tasks throughout the day.
It is available in three colour options; Black, White, Blue & Peach
Now lets proceed to the tutorial.
Steps to enter recovery mode on Galaxy A33 5G
1. To enter "Recovery Mode" you need to switch off your A33 5G and connect it using a USB cable to PC.
2. Now press and hold the "Vol Up" button along with the "Power" button at the same time.
3. Once you see the phone model on screen release the "Power" button while holding on to the "Vol Up" button.
4. Now you will be entered into the Android Recovery Mode.
You may cross check the below image for the final "Recovery Mode" menu.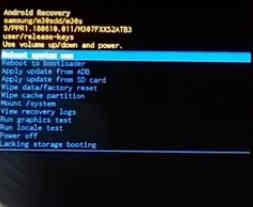 That's it guys, you have successfully entered the recovery mode on your Samsung Galaxy A33 5G.
If "How To Enter Recovery Mode On Samsung Galaxy A33 5G?" tutorial really helped you, please give a like/share on social networking websites.