The main advantage of Samsung Galaxy Smartphones over other Android ones is that it had a unique LED notification system for missed calls, messages etc. But if you check out the latest Samsung Galaxy J5 and J7 that feature is not there, but don't get disappointed because Samsung has equipped these beasts with the front facing LED flashes. This is the first series of Android Smartphones from Samsung with the front LED flash which can be used for notification purpose also.
But how can we enable the front LED notification on Galaxy J5 and J7? For that please follow the below given steps.
Steps to enable LED flash notification on Galaxy J5 & J7 (using Flash Alerts 2 app)
1. First please download and install the "Flash Alerts 2" app from Google play store by following this link.
2. After installation, please open the app from the app drawer by tapping on it. When you open the app you will get the below screen. Here enable the application alert features by tapping on the toggle switch on the top right corner.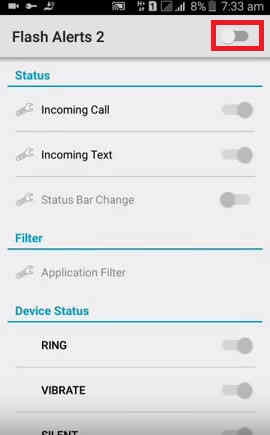 3. Once enabled the switch will turn green. Now scroll down until you see the below options.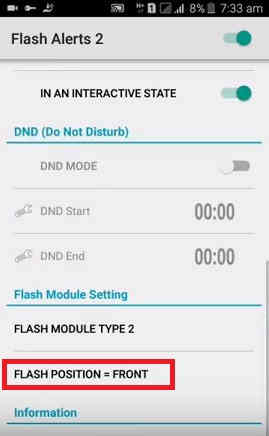 4. Here tap on "FLASH POSITION=FRONT" or similar and you will get a popup like the one shown below.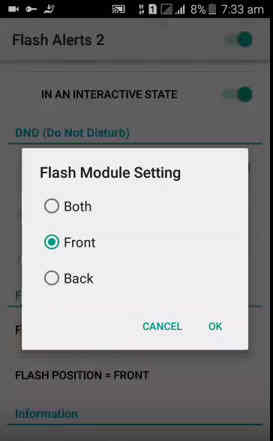 5. From this popup you can select which flash needs to be activated as notification, front, back or both.
That's it guys, enjoy.
If you have faced any issues while trying to enable the front LED flash notification on your Samsung Galaxy J5 or Galaxy J7, please feel free to post it in the comment section below, don't worry I will help you as fast as I can.
If "How To Enable Front LED Flash Notification On Samsung Galaxy J5 and J7?" tutorial really helped you, please give a like/share on social networking websites by using the below given buttons.