Hi guys, this tutorial will help you to enter the recovery mode on Samsung Galaxy A54 using the key combinations.
A brief intro
Entering recovery mode on a Samsung Galaxy A54 is relatively easy. You can use recovery mode for tasks like performing a factory reset, clearing the cache partition, applying software updates etc..
Please note that performing a factory reset in recovery mode will erase all data on your phone, so make sure to back up any important data before proceeding. Use recovery mode with caution. If you're unsure or uncomfortable with these steps, it's always a good idea to seek professional help.
Steps to enter Recovery Mode on Samsung Galaxy A54
1. Turn off your Galaxy A54
Make sure that your phone is switched off.
2. Press and Hold Key Combinations
To enter recovery mode, you will need to press and hold specific key combinations.
For Galaxy A54, the key combination is needed is Vol Up button and the Power button simultaneously along with a connection using USB cable to your PC.
Press and hold the Volume Up button and the Power button simultaneously.
Continue holding both buttons and connect your A54 to your PC using the USB data cable.
Once you enter recovery mode, release both buttons.
Now you will get the recovery mode menu as shown below;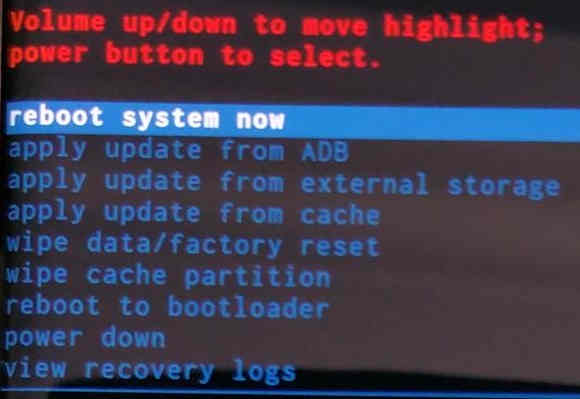 3. Access Recovery Mode:
After releasing the buttons, your phone should boot into recovery mode. You should see a menu with several options.
In recovery mode, you can use the volume buttons to navigate up and down through the options, and you can use the Power button to confirm your selection.
To highlight an option, use the Volume Up or Volume Down buttons.
To select an option, press the Power button.
5. Perform the Desired Action
Depending on why you entered recovery mode, you can choose various options like;
Reboot system now
Apply update from ADB
Apple update from external storage
Apply update from cache
Wipe data/factory reset
Wipe cache partition
Reboot to bootloader
Power down
View recovery logs
6. Reboot
After you've completed the desired action, use the volume buttons to navigate to the "Reboot system now" option and press the Power button to reboot your device.
Normal queries for this tutorial
Enter recovery mode on galaxy a54 without pc
Enter recovery mode on galaxy a54 not working
Samsung a54 hard reset
Samsung a54 download mode
Samsung a54 locked
Factory reset samsung a54 without password
Samsung a54 tutorial
Samsung a546e hard reset
If "How To Enter Recovery Mode On Samsung Galaxy A54?" tutorial really helped you, please give a like/share on social networking websites by using the below given buttons.