Hi guys, this tutorial will help you to download and install GCam / Google Camera apk / app for your Samsung Galaxy F13 SM-E135F. Hope you are already aware about Google Camera app. If not, GCam or the Google Camera app makes the Pixel devices stand out from the crowd for their wonderful Camera capabilities when compared with other Android Smartphones.
Please note that this tutorial is only for the Galaxy F13 Smartphone, however if you are looking for a general tutorial please have a look at it below.
Just before the real tutorial lets have a discussion on;
A preface to Galaxy F13 Specs
The Samsung Galaxy F13 has a 6.6 inches PLS LCD touchscreen display having Corning Gorilla Glass 5 protection on top of it. It has 64GB 4GB RAM/128GB 4GB RAM storage and memory options to choose.
The Galaxy F13 comes with a 6000 mAh Li Po non-removable battery and has Exynos 850 (8nm) chipset along with Octa-core 4×2.0 GHz Cortex-A55 & 4×2.0 GHz Cortex-A55 processor and Mali-G52 GPU.
Colour options to choose

Galaxy F13: Waterfall Blue, Sunrise Copper, Nightsky Green
So;
What is GCam or Google Camera apk / app?
The GCam apk  or Google Camera apk is the best Camera app available on the market now. But the saddest part is that it is officially available for mostly Google Pixel devices from Play Store. But don't get disappointed as the main objective of this article is to install it on the Galaxy F13.
GCam or simply the Google Camera app, enables you to experience the advanced features of photography such as HDR+, Motion, Night Mode, Panorama, Photosphere, etc as you have never experienced before. In simple words GCam allows you to take better photos than the original stock camera app on your phone.
The GCam has inbuilt AI which takes photo at the best moment (for eg: the happy moment) without user intervention, isn't it great. It also optimizes the image to make it the best looking one.
Download links for GCam / Google Camera apk for Galaxy F13
In most cases the stock GCam apk or the Google Camera apk will not be compatible with your Galaxy F13. Here comes the modded versions of the same that can be downloaded from the below given links. Thanks to the modded version.
How to confirm your Galaxy F13 is compatible with GCam / Google Camera?
Before downloading and installing the GCam / Google Camera apk/app on your Galaxy F13 you need to check it's compatibility. For that you may need to download and install the Manual Camera Compatibility checker app from Google Play Store here.
Once installed please open the app and click the start button to check your Galaxy F13 GCam / Google Camera compatibility.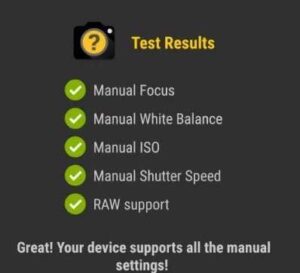 If you are getting green check marks on all the criteria like given above you are good to go, all the GCam / Google Camera features will work on it. If any of the above check marks are red then your phone is only partially compatible with GCam or Google Camera app. Some features may work and some may not.
How to install GCam / Google Camera APK on Galaxy F13?
This is the same as you install any other APK file on your Samsung Galaxy Smartphone. Find the downloaded GCam / Google Camera APK using the file manager and tap on it to open. Now you will get the option to install the app. If you are getting any warning please enable the "Install unknown apps" option. Complete the installation and enjoy the app.
Hope this tutorial helped. If did please share this article on social networking websites.
Normal queries for this tutorial
Google camera apk for android 13
Google camera apk for android 12
Gcam apk for android 12
Google camera mod apk
Gcam all ports apk
GCam apk latest version for Galaxy F13
How to download/install GCam / Google Camera apk / app for Samsung Galaxy F13 SM-E135F?
If "How To Download Google Camera APK For Galaxy F13 SM-E135F? (GCam)" tutorial really helped you, please give a like/share on social networking websites by using the below given buttons.