This article will help you to get Samsung CEO support by just filling out a form and resolve your issue for good.
There are situations were you will be left without no helping hands. However that is not the case with the Samsung Galaxy mobile phones at least in India, Bangladesh, Sri Lanka, Maldives, Nepal and Bhutan. Even though I felt abandoned few months before, I found a proper method to get help in that situation and resolve my issue.
My Samsung Galaxy Phone got the infamous restart problem few months before. When I contacted the normal Samsung Technical/Customer Service guys they told me the motherboard needs to be replaced at my expense as the warranty period was over. The estimated cost was 75% of the original device cost which was not at all acceptable. The device was used just for 14 months and never undergone any rough use. The issue started after a software update. So obviously the fault was not from my end. I was really disappointed and even planned to switch to another brand. This is when I heard of the Samsung CEO Email support help desk! and they resolved my issue in no time.
Table Of Contents
Please note that this support method works only in India, Bangladesh, Sri Lanka, Maldives, Nepal and Bhutan. For other countries if you have similar support please do a Google search for the link.
What is Samsung CEO Email support help desk? (For Southwest Asia)

This support is useful for people who has a Samsung Galaxy Smartphone that is out of warranty, and which is faulty not because of your doings. You can also avail this support if you are still under warranty and not getting proper support from the service center or customer support people or not happy with the resolution they have provided.
How to request support through Samsung CEO Email support help desk?
For that you just need to fill the below form;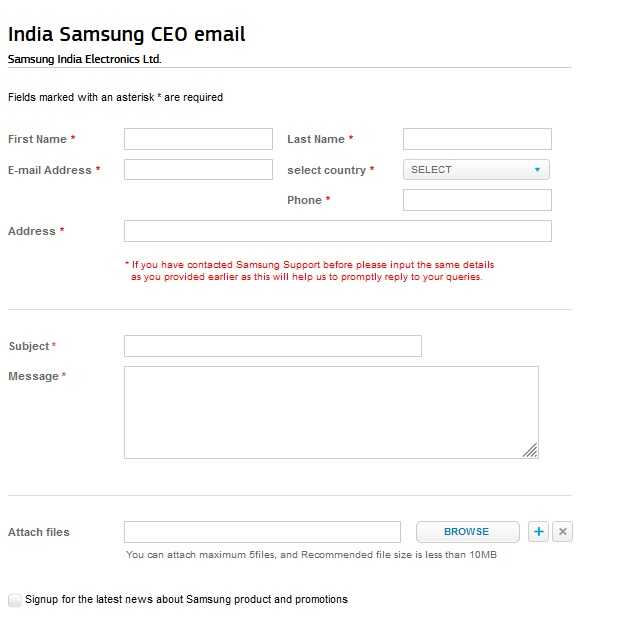 You can get the above form by following this link.
Please click the above link and fill all the information requested. Do not forget to provide a working phone number and email id. Once you submit the CEO Support Email form you will get a call/email from them within the next 24 hours. When they call explain the issue you are facing. They will provide you a favorable solution in the next 3 or 4 days if your concern is genuine.
If you have faced any issues while trying get support through Samsung CEO Email Support, please feel free to post it in the comment section below, don't worry I will help you as fast as I can.
If "How To Get Help If Samsung Customer/Tech Support Not Helping?" tutorial really helped you, please give a like/share on social networking websites.