It's been quite a while since the news about the all new freshly baked Android 8.0 Oreo started to roll on, but how much actually you know about it and what are the latest! Don't worry just make reading this thread a habit and you will be informed about all you want to know about Oreo.
Features of Android 8 Oreo Firmware
First lets start with it's performance
According to Google it will perform 2x faster than the previous build. They are affirming the speed by a new feature which limits the background running apps to a minimum so that no battery power is wasted nor the resources.
Improved multitasking
The Android Oreo can run two apps simultaneously side by side with the screen sharing feature which was introduced in it's predecessor.
Google Play Protect
The new Google Play Protect which comes with the Oreo helps you to stay away from the malicious apps which steals your data and misuses it. As per Google it scans over 50 billion apps per day, even the ones that you haven't installed yet.
Enhanced Imoji's
Over 60 new imoji.
Latest Updates
Is Oreo currently available on any Android Smartphone?
Yes it's already available for the Google fans,  Google Pixel 2, Google Pixel 2 XL, Google Pixel, Google Pixel XL, Pixel C, Nexus 6P and Nexus 5X are already blessed.
Which all phones are getting the tasty Android Oreo?
First the Samsung Galaxy Series which are getting the Android 8.0, 8.1 Oreo Firmware are given below;
Samsung Galaxy S8, Samsung Galaxy S8 Plus, Samsung Galaxy Note 8, Galaxy S7 and Galaxy S7 Edge.
Rest of the Android Phones
LG G6, LG V30, OnePlus 5, Nokia 8, Nokia 6, Nokia 5, Nokia 3, HTC U11, HTC 10 and HTC U Ultra, HTC U11 Plus and HTC U11 Life, OnePlus 3T and OnePlus 3, OnePlus 5T and OnePlus 5, Sony Xperia XZ1, Sony Xperia XZ1 Compact, Sony Xperia X, Sony Xperia X Performance, Sony Xperia XZ, Sony Xperia X Compact, Sony Xperia XZ Premium, Sony Xperia XZs, Sony Xperia XA1, Sony Xperia XA1 Ultra, Sony Xperia XA1 Plus, Moto Z, Moto Z Force, Moto Z2 Force, Moto Z Play, Moto Z2 Play, Moto G5, Moto G5S, Moto G5 Plus, Moto G5S Plus, Moto X4, Moto G4 Plus, LG V30, LG G6 and LG Q6.
We will update the above phone list if there are any new devices added to the firmware roll out.
Last but not the least, a few screenshots by Mr. TJ OConnor revealing the build number, base band version etc of Oreo.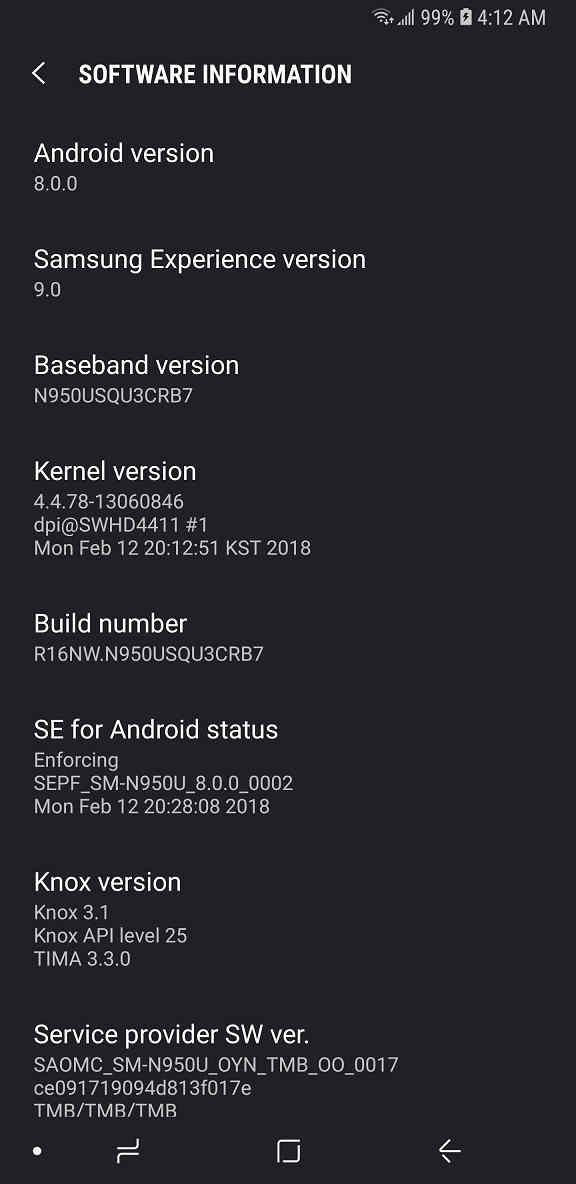 Please use the comment section below to add/correct any details given above. Thanks!