Hi guys, today we will have a detailed tutorial on rooting your favorite Samsung Galaxy S4 SCH-I545ZWAVZW for Verizon subscribers without the need of a computer/laptop. This mighty phone comes with 4G LTE connectivity, 1.9GHz quad-core processor, 5 inches Super AMOLED display and 13 megapixel monstor camera.
Even after all of this It's not good if you are having limited privileges, so we have came up with a very simple and easy tutorial to root your Samsung Galaxy S4 SCH-I545ZWAVZW so that you will be awarded with super user credentials. Don't worry I have made this tutorial so simple that even your 90 year old non techie granny can do it. The main attraction about this method is that you don't even need your computer for rooting your Samsung Galaxy S4 SCH-I545ZWAVZW Verizon, you can simply do this by installing a couple of apps on your device, also your data will be held intact so you don't have to take any backup of your phone, wonderful isn't it.
Steps To Root Samsung Galaxy S4 SCH-I545ZWAVZW for Verizon Without The Need Of A PC
1. First you need to enable the feature on your phone, install apps from "Unknown sources" so that you can install apps which are not downloaded from Google Play store. For that simply go to "Settings"->"Security" and give a check mark on "Unknown Sources".
2. After doing this open the url "https://towelroot.com/" on your Samsung Galaxy S4 SCH-I545ZWAVZW internet browser.
If you get any warning from your browser about the "Untrusted Connection" please don't worry, you just need to add it to security exception.
3. Now the homepage of "towelroot.com" will be opened and you will see a similar screen like one given below.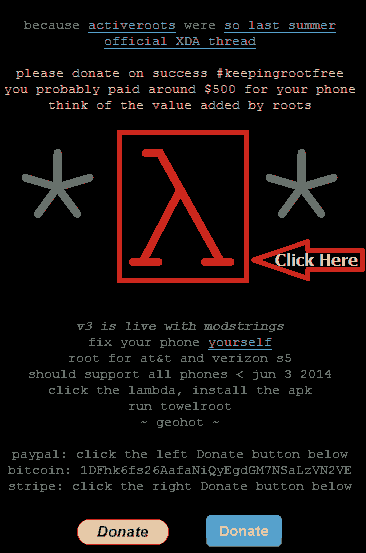 Now tap the "Lambda" symbol there and ignore the warning and click "Ok" to download the apk file. After downloading the .apk file on your device please install it.
4. Now open the "towel root" app on your phone and tap on "make it ra1n" to root your device.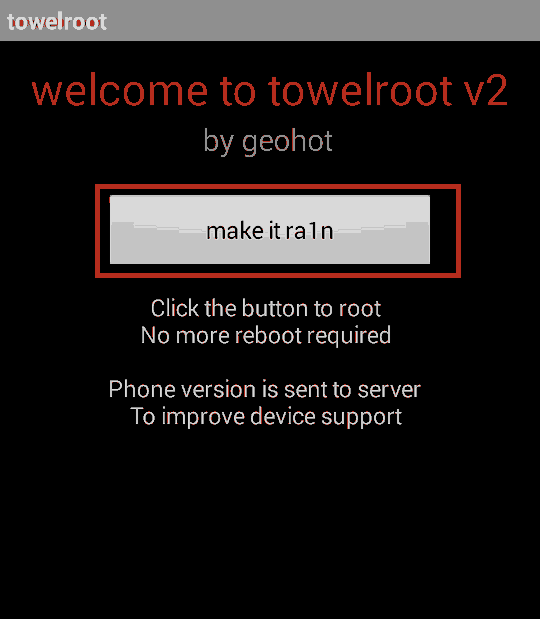 Wait for the process to complete and open "Google Play Store" when it's done.
5. Now type in "SuperSU" in the "Play Store" app search box and download and install "SuperSU" from chainfire. After installing the "SuperSU" app open it, you will be asked to confirm for updating SU binaries, click "Continue" and next click "Normal", and wait for the binary installation. Once it's completed reboot your S4.
That's it guys your Samsung Galaxy S4 SCH-I545ZWAVZW for Verizon is now rooted with superuser privileges….enjoy the maximum out of it.
Please note that rooting will void your warranty (don't worry you can always reinstate warranty by unrooting it), so kindly proceed at your own risk. SamsungSFour.Com will not be liable for any damage caused as a result of executing any of the steps given above.
To unroot the device just open "Super SU"' app and click "Full unroot" from "Settings.
If you have faced any issues while rooting your Samsung Galaxy S4 SCH-I545ZWAVZW for Verizon, please feel free to post it in the comment section below, don't worry I will help you as fast I can.
If "How To Root Samsung Galaxy S4 SCH-I545ZWAVZW Verizon? (No PC)" tutorial really helped you, please give a like/share on social networking websites by using the below given buttons.