Hi friends, this article will help you in detail about AnTuTu Benchmark Score on your Samsung Galaxy M30s. In this article we are detailing both Galaxy M30s SM-M307F and Galaxy M30s SM-M307FN.
What is An Tu Tu benchmarking app?
AnTuTu Benchmark is a tool for Android Smartphones which allows you to check the performance of your Smatphone, owned by the Chinese company Cheetah Mobile. This tool helps you to determine the best suited mobile phone for high performance graphics which is required for top tier games.
What is An Tu Tu benchmarking?
In brief it tests all parts of your device and assigns an overall score based on the individual performance. AnTuTu benchmarking gives your Galaxy Smartphone an overall score as well as individual scores for each test.
This score is useful for comparing different devices based on it's performance. For eg: if your phone's score is 2000, a device with a score of 4000 is arbitrarily twice as fast than yours. Individual test scores can be used to, for example, to compare how fast a phone's GPU performs compared to another phone's GPU.
So now lets get to our main objective here.
How To Install An Tu Tu benchmarking apk on Galaxy M30s?
First of all you need to download the apk file from their official website here. It is no longer available on Google Play Store.
Once downloaded and opened you will get the below page. No click on install and the 3D benchmarking tool will start downloading as shown below.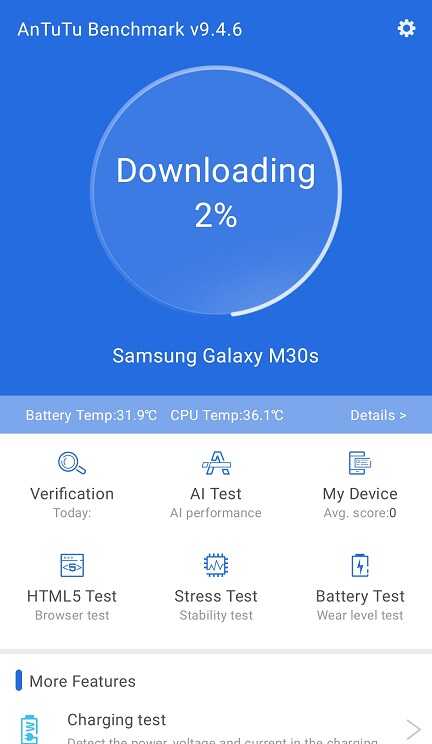 It will take quite some time. Once downloaded it will start installing, accept the prompts appropriately.
Samsung Galaxy M30s AnTuTu Benchmark Score
Once everything is installed you will get an option to "Test" on AnTuTu Benchmark app. Click on it and wait for the whole process to get finished.
Below screenshot shows the benchmark for Samsung Galaxy M30s.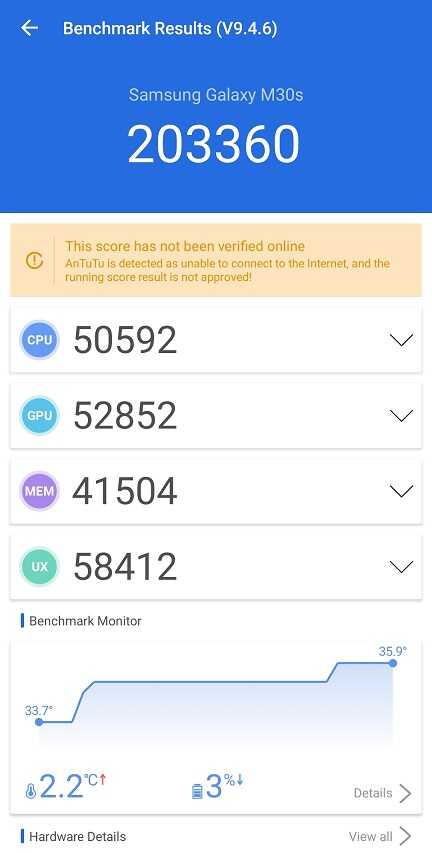 As already shown in the above screenshot AnTuTu Benchmark score for Samsung Galaxy M30s is 203360.
If  "Samsung Galaxy M30S AnTuTu Benchmark Score" article really helped you, please give a like/share on social networking websites.